The Danga View Condos are in the city center near the straits. The condos are located in the Danga Bay area of Johor Bahru (sometimes they are listed as the Danga Bay condominium). The units are generally a bit over 1,000 square feet and offer a location to the west of downtown about 15-20 minutes from CIQ. They offer a decent option commuting to Singapore over the causeway (with a straits view for some of the condos).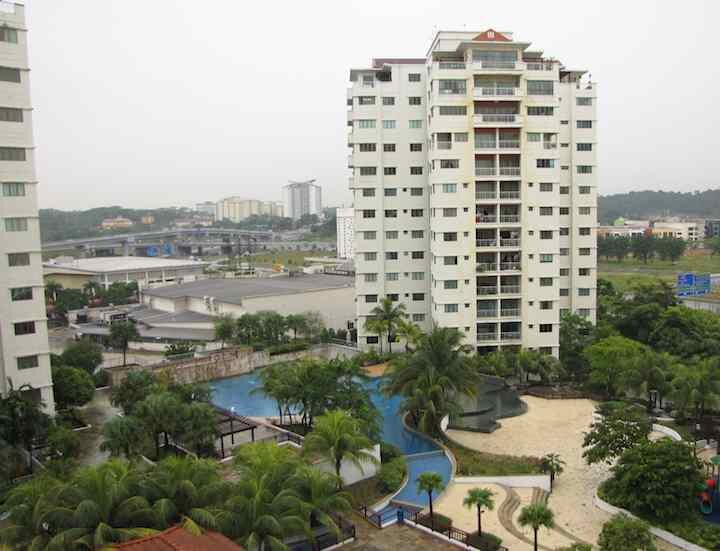 The condo residents enjoy a large pool, gymnasium and tennis court. As with the other condos expats favor, Danga View Condoa has security personnel on site 24 hours a day.
As I mention elsewhere, condo rental agents in Johor Bahru show you the listings they have. If they don't have any listings at Danga View you need to find another agent to show you. Looking at the popular property sites for agents with multiple listings at your preferred condo is a good strategy.
Danga View has 4 types of condo units:
1,000 square feet units
a duplex with each floor 1000 square feet (so total area approximately 2000)
a deluxe with a single floor more than 2000 square feet
the penthouse units (two floors of 2000 square feet each, total of approximately 4,000).

I believe the units have a nice balcony; if not all do, at least some do have a nice balcony.

They are near many nice restaurants but there appears to be no easy way to walk to them. There is a highway with no way to sensibly cross it. The inability to walk from the location is a big drawback.

Monthly rental on these condo units will range between RM 1,800 and RM 2,900.


View Larger Map

Address: Danga View Condo, Danga Bay, Johor Bahru